SAT/ACT Diagnostic Overview
The SAT/ACT Diagnostic consists of eight sections that alternate between the SAT and ACT (excluding the essay). Each section is between 14 and 39 minutes long, and contains the number of questions and sections needed to simulate the pace required on each exam. The student will be tasked with completing 201 exercises in all. The section timing and questions are given below in the order that they appear on the actual diagnostic. Two five-minute breaks are suggested as well.

The Diagnostic Report
Easy-to-read, 9-page report that highlights strengths and weaknesses corresponding to the different exams
Extremely beneficial to tutors because it allows them to pinpoint areas of concern
Available immediately upon exam completion through your account
Front page (seen below) gives an overview of performance and comparison between exams, while subsequent pages dive deeper into a question analysis for each section.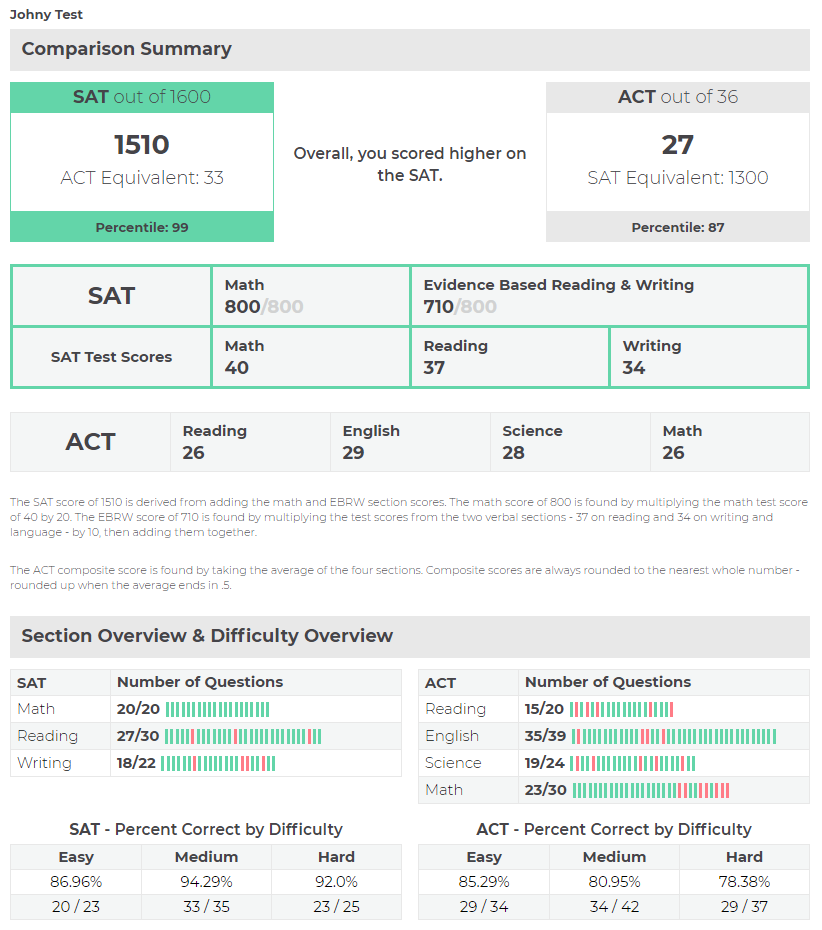 Further Details
Essays are not included on the SAT/ACT Diagnostic.
Please remember: The SAT/ACT Diagnostic is designed to help students determine whether they're better at the ACT or the SAT. It is not designed to generate precise scores that predict how they will do on the actual SAT or ACT. The generated comparison scores reflect how a student did on the diagnostic the day that he or she took the diagnostic.
The Benefits of Taking The Right First Step
Save Time & Money
Our diagnostic reduces costly prep time because it pinpoints your strengths and weaknesses
Earn Meritorious Money
There is $11 billion in merit-based scholarships based on high SAT and ACT scores
Strengthen Your Application
Our Diagnostic can increase your chance of gaining admission to your top choice
Created Through Experience
We have fine-tuned the diagnostic over eight years, and its content areas are based on thousands of hours tutoring and testing students
Powerful Analytics
Our nine-page report pinpoints strengths and weaknesses on both the SAT and ACT.
View a sample report
Consultants & Tutors
Learn how to brand our diagnostic with your logo and administer it to your own students.
Contact us for more info